Release Date: August 25, 2015
Publisher: Avon
Source: Library
Author Links:
Goodreads
|
Website
On the cusp of her first London season, Miss Madeline Gracechurch was shyly pretty and talented with a drawing pencil, but hopelessly awkward with gentlemen. She was certain to be a dismal failure on the London marriage mart. So Maddie did what generations of shy, awkward young ladies have done: she invented a sweetheart.
A Scottish sweetheart. One who was handsome and honorable and devoted to her, but conveniently never around. Maddie poured her heart into writing the imaginary Captain MacKenzie letter after letter … and by pretending to be devastated when he was (not really) killed in battle, she managed to avoid the pressures of London society entirely.
Until years later, when this kilted Highland lover of her imaginings shows up in the flesh. The real Captain Logan MacKenzie arrives on her doorstep—handsome as anything, but not entirely honorable. He's wounded, jaded, in possession of her letters… and ready to make good on every promise Maddie never expected to keep.
Men in kilts, amirite?
Sexy Scottish dude, who is
verra, verra good in bed
, finagles his way into a fake marriage with a scrappy Englishwoman.
Do I really
need
to go on? Is that not
enough
to get you to try this one out?!
sigh
Ok, if the steamy scenes aren't enough for you, then maybe the promise of humor will suck you in?
*clears throat*
Madeline is painfully shy (read: has panic attacks in crowds), so when she's faced with the London Season, she makes up a
teeny-tiny
white lie.
She tells her family that she's met, and become engaged to, the perfect man...Captain Logan MacKenzie!
And then she proceeds to write him hilarious fake love letters for
years
!
Of course, she has to post the letters to make it look
real
, but she makes sure that the regiment she's sending them to doesn't actually exist.<--this because the mailman
will not
be denied!) will come back to bite her in the ass.
Sadly, all good things must come to an end.
So, with a heavy heart, Madeline kills off her imaginary beloved, and goes into mourning. And since her godfather had left her (and her betrothed) a castle, she promptly retires to a quiet life in Scotland.
*BLISS*
Right up till the
real
Captain Logan MacKenzie
shows up, determined to blackmail her into marriage.
And that's just the start of one of the best romance novels I've real in quite some time. It's got it all! It's smart, sexy, and soooo funny!
Here's a bit of advice from one of MacKenzie's soldiers on how to get Madeline
interested
in him...
"You strip down to your skin, and then you have a dip in the loch. Wait until she comes looking for you. Because she will. They always do. But pretend not to notice when she does. And then - just when she's close enough to see and she's been watching for a while, you rise up out of the water. Like a dolphin. Or a mermaid. Shooting up through the mist and pushing your hair back with both hands"-Rabbie thrust both hands through his hair to demonstrate-"with all the little beads of water trickling down over the ridges of your shoulders and chest." He danced his fingers down his belly. "Like so."
Monroe snorted. "So he's supposed to go down to the loch at half-crack o' the morning, paddle about in the frigid water for an hour or two, and then emerge? I'm finding it difficult to believe she'd see anything impressive."
Madeline is smart, talented, spunky, and now one of my favorite romance heroines of all time! Throughout the entire book she continually surprised me with her honesty, intelligence, and sense of humor.
And Logan? Well...
Sure, there was some unnecessary back-and-forth at the end, but this is a
romance
novel, so that sort of thing gets a pass with me.
I really don't want to spoil the details for you, but I will say this is going on my favorites shelf.
Hmmmm. I wonder if it's too soon to do a re-read?
Nah.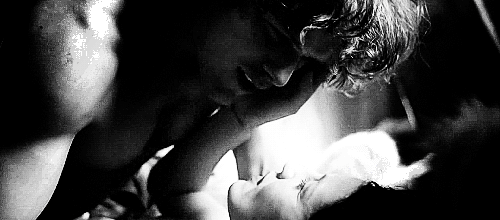 Oh! And I almost forgot to mention Rex & Fluffy! No, seriously, she has pet lobsters. You've gotta read it...