Release Date: September 25, 2015
Publisher: Henry Holt and Company
Source: Library
Author Links:
Goodreads
|
Twitter
|
Website
Ketterdam: a bustling hub of international trade where anything can be had for the right price—and no one knows that better than criminal prodigy Kaz Brekker. Kaz is offered a chance at a deadly heist that could make him rich beyond his wildest dreams. But he can't pull it off alone...
A convict with a thirst for revenge.
A sharpshooter who can't walk away from a wager.
A runaway with a privileged past.
A spy known as the Wraith.
A Heartrender using her magic to survive the slums.
A thief with a gift for unlikely escapes.
Kaz's crew are the only ones who might stand between the world and destruction—if they don't kill each other first.
Spoiler Alert!
There are no CROWS in this story.
Nope, not even the kind who've been resurrected for vengeance.
Sorry, Eric.
So if it's not about crows, then what's this book about?
Well, it's a fantasy-heist story with a magical backdrop!
However, I
didn't
think this was like Ocean's Eleven or
The Palace Job
, because it was a bit darker than either of those. Not that this story was bleak, but the characters just weren't as quirky, fun, and lovable.
Quirky
, yes. Fun and lovable...not so much.
At least, not to me.
What I'm trying to say is don't go into this expecting a lighthearted romp.
But I still really enjoyed it, and I came to care for each of the flawed individuals in this story. I started the book off feeling
one
way about everyone, and ended with a different impression of each of them. Maybe I didn't
love
them, but I felt like I understood them enough to
like
them. To root for them to rise above their problems, and maybe become better people. Even find happiness?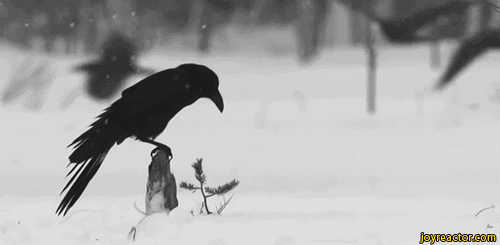 The group is made up of thieves, gangsters, assassins, con-men, fanatics, and one wannabe demolition-man.
So what brings this band of derelicts together?
Well, to steal an impossibly powerful weapon,
and
the man who created it, from an impenetrable fortress, in order to save the world from war and destruction.
Oh, and make a shitload of money in the process.
Naturally, there are no surprises, no one double crosses them, and everything goes according to plan!
Or maybe not...
Ok, when I picked this up, I had no idea it was set in the same world as Bardugo's
Grisha
series. I was under the impression that this was an entirely new thing. I was
aware
of her other books, but having heard mixed reviews on them, I'd put off checking them out. So when I started reading
Six of Crows
, and the term Grisha came up I had a freak-out moment.
Oh my God! Why does it say Six of Crows #1 if its got these Grisha people in it?! I'm going to have to quickly read the first series if I'm going to understand what the hell is going on, aren't I?!
Whhhhhhhy didn't I think to ask someone anyone tell me?!
Waaaaaah!
Thankfully, I have some long-suffering friends on Goodreads who managed to calm me down, and set my mind at ease.
So. Here's the skinny on it for those of you who are wondering:
This is set in that same world, but you DON'T have to read the other books to enjoy this one.
There's good world building and enough explanations for newbies to dive right on in, without spending time scratching their heads over obscure references.
That was
my
experience, anyway.
I've also heard through the grapevine that this is actually
better
than the original series.
So, whether you read the Grisha stuff and didn't care for it, or you
haven't
read the other books at all, I'd still recommend this one if you're looking for a good YA fantasy with lots of twists and turns.