Release Date: October 27, 2015
Publisher: 47North
Source: NetGalley
Author Links:
Goodreads
|
Twitter
A thief's good deeds are never done.
Loch and her crew are determined to stop the ancients from returning to reclaim the world they once ruled, but a kidnapped friend throws their plans awry. When a desperate rescue turns into a shocking reunion, the ancients return and seize power. Determined to stop them, Loch and the crew look for a way to close the gate to the ancients' world, but this time, they find themselves up against an enemy that has insinuated itself into the highest ranks of the Republic. Cruel, cunning, and connected, the ancients target the crew's families and histories, threatening to tear friendships apart.
If that weren't bad enough, Loch must deal with her treacherous assassin sister, her turncoat ancient friend, and a daemon who has sworn to hunt her to the ends of the earth. In order to save the Republic and pull off her largest con ever, Loch will need her friends…and maybe her enemies too.
I'm not sure if this is the final book or not, but
if
it is, then Weekes did a good job of showing growth in all of the characters, tying up all the loose ends, and putting a bow on top of it all.
This sort of thing tends to make me happy.
sniffle
No,
really
! I knew/believed/trusted that everything would end up the way it should...and the author delivered!
Especially the part about Gwalafalafel...Galf.....Gandolfwal...Gwenfalr...
fuck it
...
The Hammer!
Which looks like Mjolnir to me, because I'm a nerd.
If you're read the first two books, then you know what to expect from the plot.
Is that a good thing? I'm not sure. At some point I was just expecting everything I was reading to be an elaborate lie, you know? Took some of the original suspense out of it for me.
I never really felt any of the (main) characters were in
real
danger. Even when they appeared to be totally
done for
, I didn't really have the
Gasp!
reaction, because...?
Well,
because
that's just not how Weekes operates.
So this was me at the end of the book: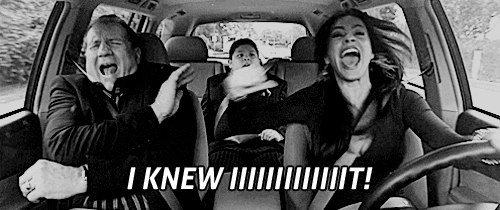 Am I saying that
no one
bit the BIG one?
No.
Not everyone is getting out of this alive.
But I'm not giving you any hints, so there!
*cackles*
What I'm
trying
to say is, this is an excellent addition (possibly ending?) to the
Rogues of the Republic
books. While I might not have been as surprised by the twists and turns, I still enjoyed them.
Does that make sense?
I'm just not someone that can't read or watch something if I already know how it's gong to end. Those of you who know me, know that I'm not one to get upset about (most) spoilers, and even ask for them sometimes.
I know, it's weird. What can I say?
Anyway, to me, Loch & her lovable gang of thieves are always worth reading about. And if this was
it
, then it was a damn fine trilogy. If not, then I'll be standing in line to read the next one!