Release Date: December 11, 2012
Publisher: Razorbill
Source: Library
Author Links:
Goodreads
|
Twitter
|
Website
In the three kingdoms of Mytica, magic has long been forgotten. And while hard-won peace has reigned for centuries, a deadly unrest now simmers below the surface.
As the rulers of each kingdom grapple for power, the lives of their subjects are brutally transformed... and four key players, royals and rebels alike, find their fates forever intertwined. Cleo, Jonas, Lucia, and Magnus are caught in a dizzying world of treacherous betrayals, shocking murders, secret alliances, and even unforeseen love.
The only outcome that's certain is that kingdoms will fall. Who will emerge triumphant when all they know has collapsed?
It's the eve of war.... Choose your side.
Princess: Raised in pampered luxury, Cleo must now embark on a rough and treacherous journey into enemy territory in search of magic long thought extinct.
Rebel: Jonas, enraged at injustice, lashes out against the forces of oppression that have kept his country cruelly impoverished. To his shock, he finds himself the leader of a people's revolution centuries in the making.
Sorceress: Lucia, adopted at birth into the royal family, discovers the truth about her past—and the supernatural legacy she is destined to wield.
Heir: Bred for aggression and trained to conquer, firstborn son Magnus begins to realise that the heart can be more lethal than the sword....
I had no idea this book even existed until my librarian gently pointed me toward this series. And by gently, I mean she flapped in front of my face, and told me it was a great series. And by flapped it in front of my face, I mean she threatened to revoke my (PRECIOUS!) card unless I read it.
She's shady.
So I check it out, and the next thing you know I'm all involved in a prince with incestuous thoughts, a princess being forced to marry a drunk, a young man from a poor village who dreams of revenge, a soon to be queen who is dying from a broken heart, a palace guard that may have fallen for his charge, a man masquerading as a hawk, and another princess might have the power to restore the balance...or destroy the world.
Oh, and dead people. Because every time you turn around somebody is getting shanked!
I think at least 3 people bit it in the prologue. You know, just to set the tone.
I'm guessing that's where the Game of Thrones references are coming from in all the other reviews.
Keep some booze handy, because nobody is safe in this sucker.
Nobody!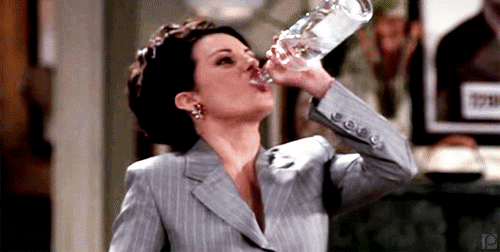 Overall, this was really good, but with so many characters in play, it was hard to get a good flow going in the story. But that was really the only thing that kept this from being a solid 4 star read for me. With a little more momentum behind the plot, I think this bird will fly.
Now, I've been told by a reliable source (above mentioned crazy librarian) that this one gets better and better. And since she has the power to screw with all of my precious Pending Requests, I choose to believe her. In other words, I'll keep you guys updated on my progress with this series.