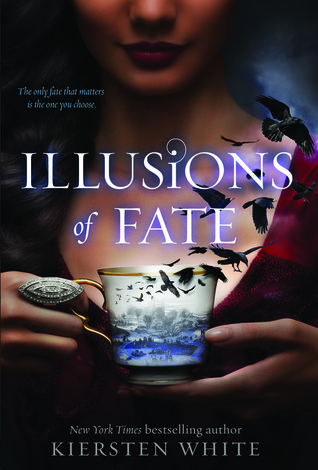 Release Date: Sept 9, 2014
Publisher: HarperTeen
Source: Library
Author Links: Goodreads | Website | Twitter
Downton Abbey meets Cassandra Clare in this lush, romantic fantasy from New York Times bestselling author Kiersten White.
"I did my best to keep you from crossing paths with this world. And I shall do my best to protect you now that you have."
Jessamin has been an outcast since she moved from her island home of Melei to the dreary country of Albion. Everything changes when she meets Finn, a gorgeous, enigmatic young lord who introduces her to the secret world of Albion's nobility, a world that has everything Jessamin doesn't—power, money, status…and magic. But Finn has secrets of his own, dangerous secrets that the vicious Lord Downpike will do anything to possess. Unless Jessamin, armed only with her wits and her determination, can stop him.
Kiersten White captured readers' hearts with her New York Times bestselling Paranormalcy trilogy and its effortless mix of magic and real-world teenage humor. She returns to that winning combination of wit, charm, and enchantment in Illusions of Fate, a sparkling and romantic new novel perfect for fans of Cassandra Clare, The Madman's Daughter, and Libba Bray.
Well, whether or not you like this is going to depend on what you're expecting from it, I think.
To me, it was a lot like The Chaos of Stars, in that the magic stuff sort of took a backseat in the book.
In this, magic is something that only the nobility have running though their veins. Commoners don't have any idea that their countries' leaders are wizards.
Ok. Not wizards, Magic-users. Something.
Anyway, Jessamin comes from a made-up island called Melei, which I assumed was supposed to be like a pseudo-Polynesian island. And she's recently moved to the made-up country of Albion, which I assumed was code for England. She's studying at the college (forgot the name), and working at a hotel (also forgot the name) when she meets Finn.
He's a NOBLE! *wink, wink, nudge, nudge*
The blurb implies that there's an overabundance or danger and secrets, and while that's technically true, this isn't a fast-paced thriller. It's more of a historical/fantasy/romance.
I don't want to give any spoilers, but there is an evil villain who's pretty horrible.
Although, I guess Pretty Horrible is sort of implied by my calling him the Evil Villain, no?
So there is danger. It's just the slow kind of danger.
And maybe because there wasn't an some in-depth mystery/conspiracy involving the magical world, it seemed...less something than I was expecting. I mean, yes, the bad guy is after ALL THE POWER, but it's more like a hostile takeover, and all of the other magic folks are (pretty much) aware that it's happening.
I don't think I'm explaining this right...
It's more about the characters than the magic, if that makes sense?
The good news is, the romance isn't super-cheesy. Jessamin doesn't swoon, bite her lip, or get all weak in the knees. The girl had a backbone, and I liked her!
And Finn didn't give me the Creeper-vibe, even though there was one point where he spied on her with his shadow (yes, his real shadow). It was kind of like a safety thing, and I didn't get the impression that he was watching her go to the bathroom, or anything else skeevy.
I liked the story, I liked the characters, and, for the most part, I really enjoyed this book.
So, if you don't go into this expecting a thrilling paranormal, you'll probably enjoy it, too.