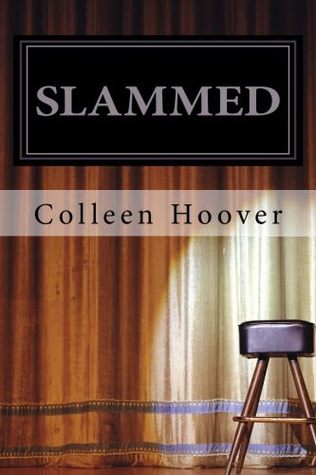 September 18, 2012 | Atria Books
Source: NetGalley
Amazon | B&N | Book Depository
Following the unexpected death of her father, 18-year-old Layken is forced to be the rock for both her mother and younger brother. Outwardly, she appears resilient and tenacious, but inwardly, she's losing hope.

Enter Will Cooper: The attractive, 21-year-old new neighbor with an intriguing passion for slam poetry and a unique sense of humor. Within days of their introduction, Will and Layken form an intense emotional connection, leaving Layken with a renewed sense of hope. Not long after an intense, heart-stopping first date, they are slammed to the core when a shocking revelation forces their new relationship to a sudden halt. Daily interactions become impossibly painful as they struggle to find a balance between the feelings that pull them together, and the secret that keeps them apart.
A gripping, emotional story about love and loss.
I wasn't sure what to expect when I first began reading Slammed. I wasn't familiar with poetry slams and the cover didn't give me much to go by. And although I knew that my friends had given it high ratings, I avoided any detailed reviews, which is something I often do if I think that I will soon be reading a story myself.
I have to admit that I was very surprised by the conflict that prevented the main characters, Layken and Will, from maintaining a relationship. It wasn't issues from their past or any of the emotional baggage that I expected would keep them apart. It was a very realistic, plausible reason that made the story even more interesting and certainly has it standing apart from others that I've read.
But what kept me engrossed in Layken's story wasn't her broken, seemingly irreparable relationship with Will. It was the emotions and heartache that she suffered because of her father's passing and the devastating news that affects her future. I found myself more invested in Layken's personal journey, her emotional growth, and the life lessons that she learns as opposed to the outcome of her relationship dilemma with Will.
While this story doesn't end in a neat and tidy happily-ever-after, it is an appropriate ending and I couldn't help but to wonder if I would have been as strong as Layken at her age if placed in the same situation. The stories' conclusion lingered in the back of my mind for days after it was over.
This has been recommended for fans of Beautiful Disaster and I would have to agree. I won't say that the stories are similar or that Layken and Will are comparable to Abby and Travis. But I do think that the characters, angst, and strong emotions that are found in Slammed are something that Beautiful Disaster fans will be able to appreciate.