Release date: June 12, 2012

The Bastion was humanity's last hope against the fearsome undead creatures known as the Inferi Scourge. A fortified city with a high wall, surrounded by lush land rich with all the resources needed to survive, protected by high mountain summits, and a massive gate to secure the only pass into the valley, the Bastion became the last stronghold of the living on earth. But one fateful day, the gate failed and the Inferi Scourge destroyed the human settlements outside the walls and trapped the survivors inside the city. Now decades later, the last remaining humans are struggling to survive in a dying city as resources and hope dwindle.

Vanguard Maria Martinez has lived her whole life within the towering walls of steel. She yearns for a life away from the overcrowded streets, rolling blackouts, and food shortages, but there is no hope for anyone as long as the Inferi Scourge howl outside the high walls. Her only refuge from the daily grind is in the arms of her lover, Dwayne Reichardt, an officer in the Bastion Constabulary. Both are highly-decorated veterans of the last disastrous push against the Inferi Scourge. Their secret affair is her only happiness.

Then one day Maria is summoned to meet with a mysterious representative from the Science Warfare Division and is offered the opportunity to finally destroy the Inferi Scourge in the valley and close the gate. The rewards of success are great, but she will have to sacrifice everything, possibly even her life, to accomplish the ultimate goal of securing the future of humanity and saving it from extinction.
Check out this amazing cover for Rhiannon Frater's newest novel, The Last Bastion of the Living! The artist responsible for this dark and gripping cover is Claudia McKinney from Phat Puppy Creations.
Special thanks to The Bookish Brunette for hosting this cover reveal during her Zombie Craze.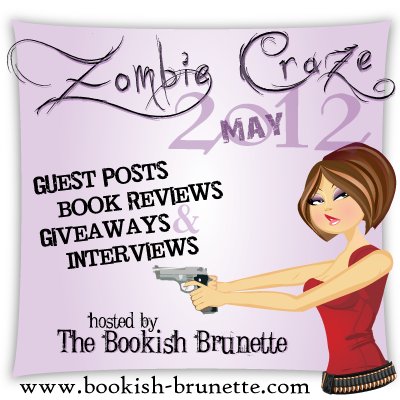 Many thanks to the very cool and talented Rhiannon Frater for this cover reveal and our upcoming review and interview with her.
Let us know what you think about this cover. We'd love to hear your thoughts!
Rhiannon Frater is the award-winning author of the AS THE WORLD DIES zombie trilogy and the author of several other books: the vampire novels PRETTY WHEN SHE DIES and THE TALE OF THE VAMPIRE BRIDE and the young-adult zombie novel The Living Dead Boy and the Zombie Hunters. The first two books in her zombie trilogy, THE FIRST DAYS and FIGHTING TO SURVIVE, are available now in bookstores. SIEGE will be in bookstores on April 24, 2012.
Website: rhiannonfrater.com & astheworlddies.com


Facebook: http://www.facebook.com/astheworlddies


Twitter: twitter.com/rhiannonfrater


Blog: rhianonfrater.blogspot.com